Commercial returns for innovative research
Fraunhofer IMW is part of the consortium of PROGRESS-TT, a Horizon 2020 project that was launched in Brussels on January 20th, 2015. It aimed to convey the technology transfer expertise of Europe's leading public research organizations to those with the greatest potential to grow. The program marked the beginning of a European Commission initiative to challenge international competitors to convert research investments into commercial returns. The project consortium designed and implemented a capacity building program for technology transfer professionals that included:
A capacity building strategy as roadmap to be implemented by technology transfer offices eager to grow

Trainings, workshops, boot camps and e-learning for emerging organizations and technology transfer funds to develop their core skills

Intensive coaching and mentoring for high potential organizations to accelerate their technology transfer activities (PROGRESS-TT will form "teams" of experienced technology transfer organizations, performers, industry, funds and high potentials to build a supportive technology transfer environment.)

Improved access to finance by bringing established and emerging funds together to share best practice and identify cross-border opportunities
PROGRESS-TT stands for public research organization growing Europe through best practice solutions for technology transfer. The program was led by Pera Consulting (UK) Ltd, bringing together nine highly qualified international partners, representing the complete value chain of technology transfer practitioners: ASTP-Proton, DSM Nutritional Products, Fraunhofer IMW, Knowledge Innovation Market, MI.TO Technology, Philips Intellectual Property & Standards, University of Bologna and VTT Ventures.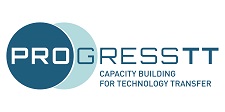 Progress-TT at a glance
Project Start: 20th of January 2015

Project Duration: 36 months