Background
European intensive industries are continuously facing new challenges to enhance the efficiency, reliability and flexibility of their processes. Energy intensive industrial furnaces have been the focal point of multiple research projects addressing radical improvements for system-level competitiveness as well as energy, environmental and cost performance. Improved designs based on new materials, alternative feedstocks, equipment and the integration of permanent monitoring and control systems into new and existing furnaces could be key in meeting those demands.
Project objectives
The objective of VULKANO is to design, implement and validate an advanced retrofitting integrated solution to increase energy and environmental efficiency in existing preheating and melting industrial furnaces fed by natural gas. As most of the European intensive industries use furnaces fueled by natural gas and need also to innovate their technological setups to comply with current and future environmental regulations and standards, VULKANO will substantially contribute to their innovative competitiveness. VULKANO's combined innovative solution will be implemented based on high-temperature phase change materials, new refractories, optimized co-firing, advanced monitoring and control systems and a holistic in-house predictive tool. Implementation will occur in two demonstration facilities: one in the ceramics sector (Spain) and one in the steel sector (Slovenia). The solutions' replicability will also be tested in the aluminium sector (Turkey) which enlarges the replication potential in other industries (Figure 1) and ensures the cross-sectoral approach is fully covered within VULKANO. The aim in terms of impact is to achieve a 20% increase in industrial furnace efficiency in the steel, ceramics and aluminium sectors, and a 27% reduction in the use of fossil fuels, forecasted in the project.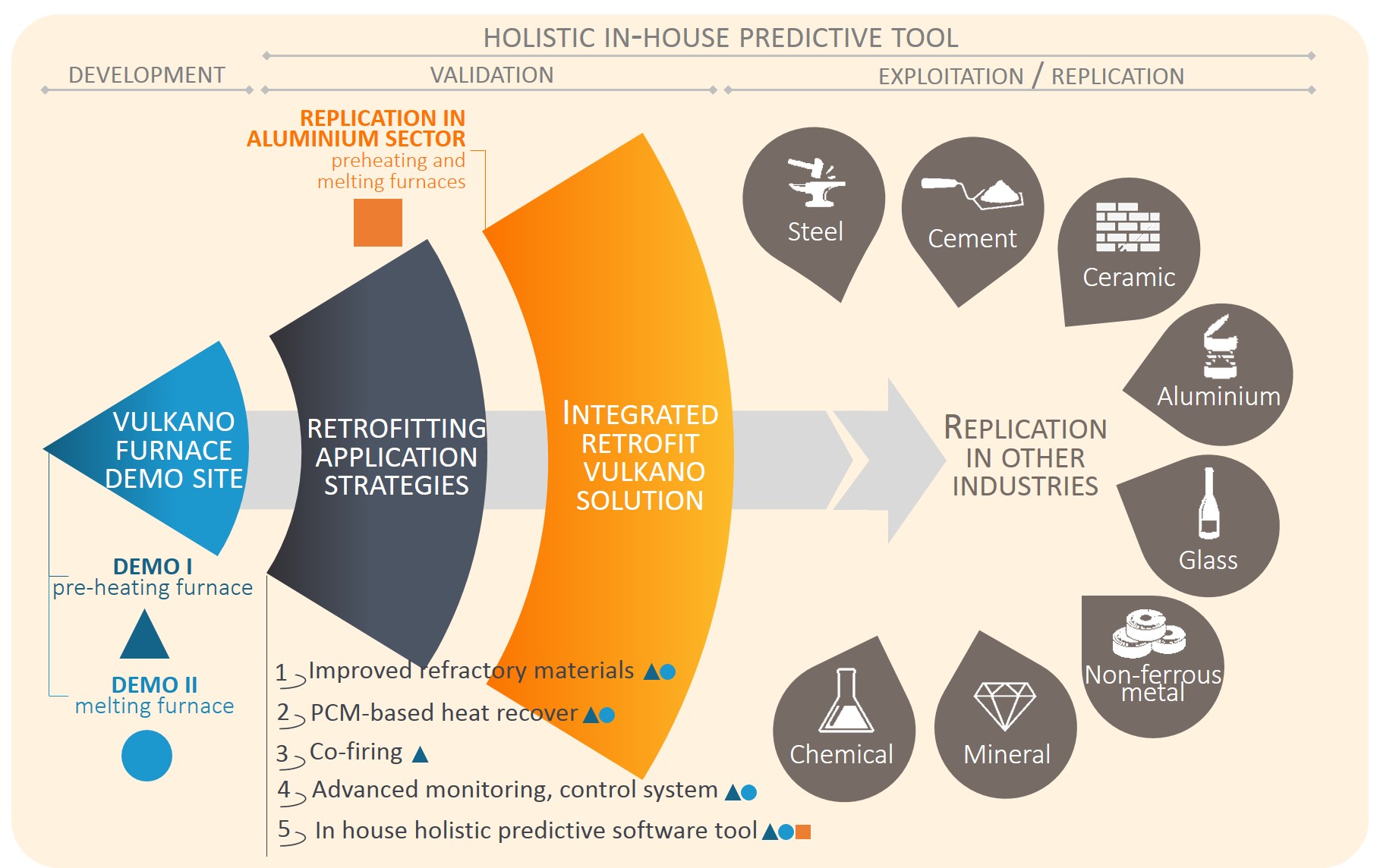 Figure 1
Client and Funding
VULKANO is a European project funded under the H2020 program, chiefly under the SPIRE Public-Private Partnership which brings together the cement, ceramics, chemicals, engineering, minerals and ores, non-ferrous metals, steel and water sectors, several being world-leading sectors operating from Europe. The mission of A.SPIRE is to ensure the development of enabling technologies and best practices along all the stages of large scale existing value chain productions that will contribute to a resource efficient process industry.
Project Partners
In order to achieve these objectives, a multi-disciplinary consortium has been set up consisting of six world-class research organizations, five leading multi-national companies and one SME with R&D and industrial capacities. The consortium comprises 12 partners from Slovenia, France, Italy, UK, Poland, Germany, Turkey and Spain, which assures a wide European coverage.
| | | | |
| --- | --- | --- | --- |
| Participant No. | Participant name | Country | Organisation type |
| 1 (Coordinator) | CIRCE – Centro de Investigación de Recursos y Consumos Energéticos | Spain | RTD |
| 2 | BOSIO d.o.o | Slovenia | Large Company |
| 3 | FIVES STEIN | France | Large Company |
| 4 | Centro Sviluppo Materiali - CSM | Italy | RTD |
| 5 | PCM Products | United Kingdom | SME |
| 6 | VALJI d.o.o | Slovenia | Large Company |
| 7 | Fundación TECNALIA Research & Innovation | Spain | RTD |
| 8 | Institute of Power Engineering | Poland | RTD |
| 9 | TORRECID S.A. | Spain | Large Company |
| 10 | Fraunhofer Center for International Management and Knowledge Economy | Germany | RTD |
| 11 | ASAŞ Alüminyum San. ve Tic. A.Ş. | Turkey | Large Company |
| 12 | CIDAUT – Fundación para la Investigación y Desarrollo en Transporte y Energía | Spain | RTD |
Fraunhofer IMW's Role
The project team at Fraunhofer IMW aims to establish the framework for market uptake of VULKANO's innovative solutions through strategic and business-oriented commercialization activities. As a leader of the WP 10 "Exploitation & Business Plan", the institute will ensure the exploitation and replication of the project's results. Some specific tasks to be performed by the Center in Leipzig include:
Analysis of the application perspectives, risks and opportunities for the implementation of the VULKANO solutions

Generation of the exploitation strategy based on an in-depth analysis of the market potential

Development of business plans to commercialize the VULKANO innovative solutions.
Project duration: 1.7.2016 - 31.12.2019

This project has received funding from the European Union's Horizon 2020 research and innovation programme under Grant Agreement No 723803