Background
The increasingly competitive environment means manufacturing companies have to stand out more from their competitors and generate new customer benefits. These consequences have led to an increasing number of manufacturing firms relying on the provision of services as one important element of their business activities.
New kinds of service
The financial advantages are clear; services unlock new potential for growth and profit, they compensate for fluctuations in the core business and they increase customer loyalty. The rapid development of digital technologies, the Internet of Things, social networks, mobile technologies or cloud computing facilitate new kinds of services. On the one hand, they are the result of a combination with classic, tangible products: smart storage boxes for screws that make an automatic refill service possible thanks to an integrated radio frequency chip, or RFID transponder; machines that can be remotely controlled thanks to digital technologies; clocks that are now far more than just timekeepers, capable of making emergency calls.
On the other hand, purely data-based and service-oriented business models are also emerging. They rely primarily on data and information flows and blur the boundaries between technology-centered and traditional companies.
Our range of services
We help companies and organizations with the systematic and customer-focused development of their service portfolio and new service-based business fields. Based on the latest scientific methods, we generate and evaluate the potentials of ideas for services together with our customers and partners.
As we do so, we take the needs of existing and potential customers and customer demographics into account and determine tailor-made service concepts. One core element of our work is the targeted implementation of the solution on site – directly on the client's premises. Our experts have extensive experience in the launching of services, modern training methods and tools.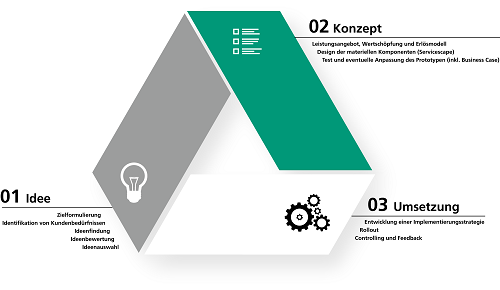 How companies can benefit:
Unlocking new growth and profit potentials
Gaining long-term competitive advantages through a tailor-made differentiation strategy
Service and methodology expertise to drive and develop viable service-based offers in the medium term
Please contact us
Are you interested in our range of services? Would you like to learn more? We will be happy to meet with your company's experts.